Review Regentenkamer, 17 January 2004 the Hague, the Netherlands

Robert Rook Trio
Robert Rook - piano, Thomas Winther Andersen - bass
Dick Verbeeck - drums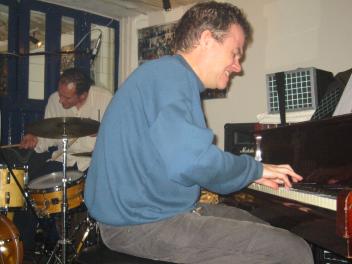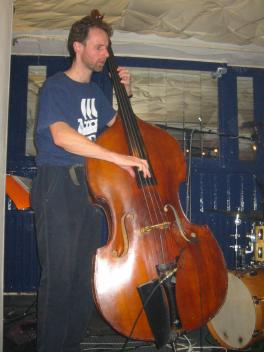 ROOK: AN ORIGINAL PHENOMENON
Already a solid number of years pianist Robert Rook could be heard at the Dutch podia, like Cafe De Pater, Cafe De Sport, Murphy's Law and luckily also the Regentenkamer. He produced a CD "Introducing Robert Rook", which got an excellent review in the Volkskrant.
Robert started as a pianist with the standard repertoire, but always gave it a special and inventive turn. He added more and more of his compositions, that became more and more self-conceited and consequently also more fascinating. He mostly performed in a trio setting, but whatever the setting was, he was clearly the leader, pushing the other members' skills to their extreme. On January 17 Robert Rook proved to have risen to great musical heights with his fellow-players. They didn't just improvise freely into space on a certain theme, but the tunes were well considered arrangements with lots of space to improvise. And they took that space abundantly.
First of all Robert Rook himself. His solos are small jewels, sometimes unpredictable, inviting for intense listening. There is a contradiction in his playing. His solos are rather sober, but he cheers them up with decorations that give rise to a smile.
Bassist Andersen and drummer Verbeeck didn't get as much solo space, but when they got the chance, they grabbed it in an extraordinary musical way. Such an inventive pianist as Robert, who's left hand at times is playing deceptive rhythms, can cause an extremely difficult task for his accompanists, but Andersen and Verbeeck followed him excellently, while providing a clear rhythmical flow. For those who missed this concert we can only hope that this excellent trio returns to the Regentenkamer soon again.
Huub van Dijk